Over the weekend I had the great opportunity to meet Shawn Kimbro of
Chesapeake Bay Light Tackle
. Not only is he one of the most prominent guides along the East Coast, he is also one of the most socially responsible guides in the country. His conservation efforts and participation in various groups includes:
http://www.carefulcatchmaryland.com/
– information on sustainable fisheries in Maryland.
http://www.cbf.org/
– Chesapeake Bay Foundation
http://www.ccamd.org/
– Coastal Conservation Association Maryland
That's just to name a few!
Shawn and I had an opportunity to briefly discuss the disappearing striper populations, as well as the disaster that is the bluefin tuna fishery, and reasons for each. It became quite obvious that Shawn is not only a tremendous conservationist…but also one hell of a fisherman. He has spent the last 6+ years focusing his efforts on exploring the Chesapeake Bay and the various fish populations that it holds. He does NOT use or allow the use of live bait on his boat, and encourages responsible fishing by practicing catch and release whenever possible…
Please make sure to check out his site, and follow his Reports page for updates on the local fishing scene. If you're in the area, be sure to drop him a line and book a trip. I can assure you that trying to catch up with Shawn is on the "to do" list for the coming year.
Shawn's Website can be found at http://www.chesapeakelighttackle.com/. Links to all of his conservation efforts can be found on his home page, along with reports, pictures, and videos of his excursions.
Along with his knack for catching LARGE stripers, he's also one hell of a musician. Hopefully I'll have a link to his music page and store shortly. I can assure you that his music will be my next purchase!
Here's a myspace link to one of the songs we had the opportunity to hear him sing on Saturday...
Trotline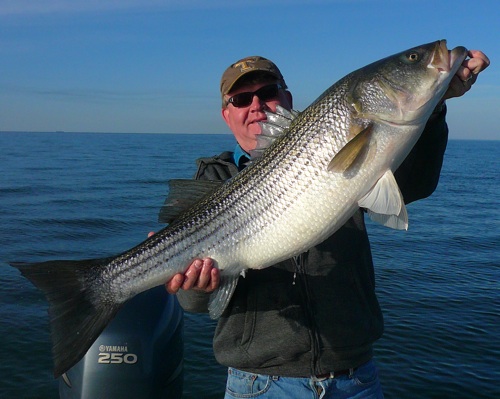 Make sure to give him a look...